A quaint town: Tequisquiapan + Cabañas Quinta Patricia = a magical and unforgettable experience.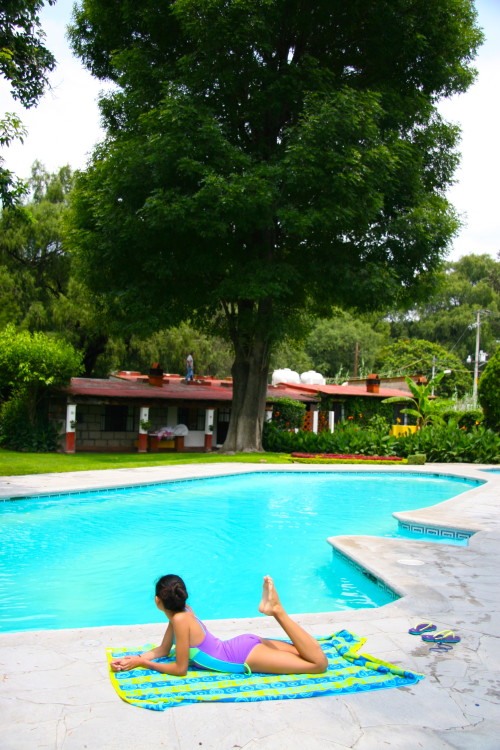 On my recent visit to Tequisquiapan, in central Mexico, I stayed at the beautiful Cabañas Quinta Patricia, a family-own hotel located in the heart of this town. Run by relatives of a Mexican radio commentator from the 50s, the hotel offers a cozy atmosphere. Its spacious and well kept gardens, fruit trees and lush vegetation make your experience an enjoyable one.
I arrived at Tequisquiapan, located about 180 km northwest of Mexico City, for a summer vacation with my 12-year old daughter. The hotel is ideal if you're looking for a simple and pleasant environment to spend a nice getaway with your family, friends, and pets.
My daughter and one of her friends–who joined us shortly after our arrival–happily enjoyed the heated pool, and explored every corner of the gardens in search of flowers, insects and hanging fruits.
The cabins, accommodating 2-12 people according to their size, are equipped with a kitchenette with stove, refrigerator and utensils. Each room has two beds (full and twin size with bases made of concrete), and a bathroom with sink, toilet and shower separately.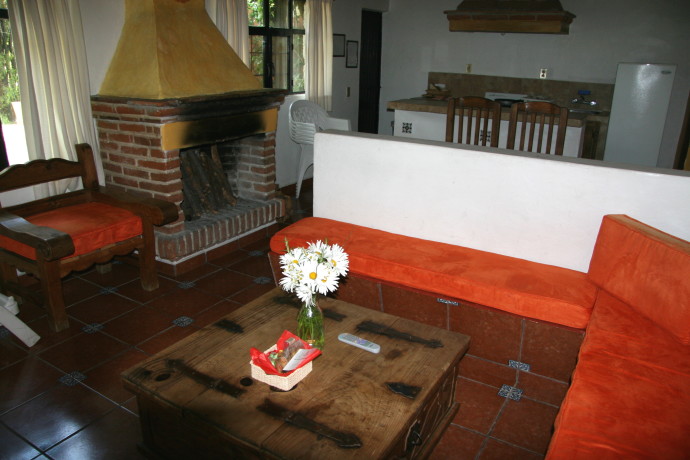 With a rustic style, bright colors and vaulted ceilings, the cabins also feature a dining area, padded armchairs made of concrete, TV, cable and a fireplace. The hotel offers WiFi, but the signal is not always reliable. There are also a tennis court, a mini golf course, and a game room with pool tables and foosball in the premises.
Our 5-day stay was really enjoyable. Although we could not leave the hotel for two days due to heavy rains, rare in July, we spent the time reading, watching movies or chatting on the cabin's lovely porch.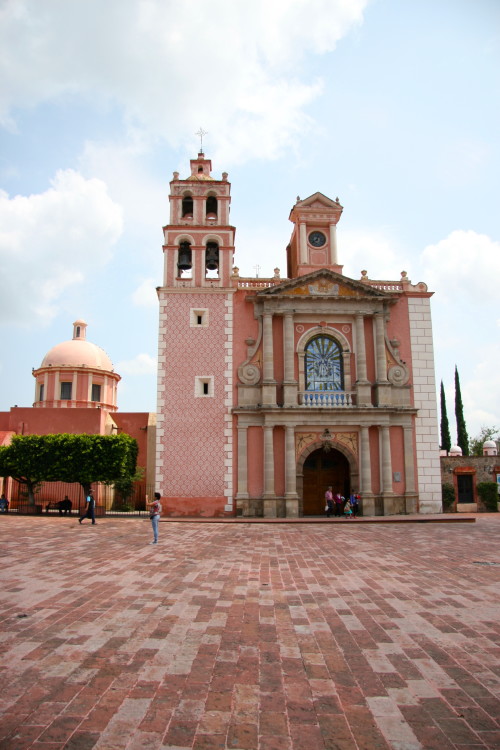 Nestled in the heart of Tequisquiapan, hotel Quinta Patricia is located four blocks (600 m) from the main plaza. This allows for short walks to the shops and markets, as the hotel does not provide restaurant service.
Bougainvilleas, colonial architecture and cobblestone streets make this a village to enjoy leisurely. There are shops of clothing, silver, furniture and crafts around the main plaza, as well as galleries, cafes and restaurants. The artisan market specializes in basketry, embroidered fabrics, wood, leather, and opal. The Neoclassical-style parish draws attention for its pink facade. While the striking large letters forming the word "Tequis" (as the town is known), are a perfect setting for taking photographs.
The word Tequisquiapan comes from the Nahuatl language and means "place of water and tequesquite" (potassium nitrate, a natural type of salt used in pre-Hispanic times). This town was known for its hot springs, visited by those who wished to relieve muscle aches and the stress of everyday life.
The Cabañas Quinta Patricia have termas or baths that are filled with hot springs. Unfortunately, the springs have dried up a bit and aquifers are deeper, so the water is warm but not hot.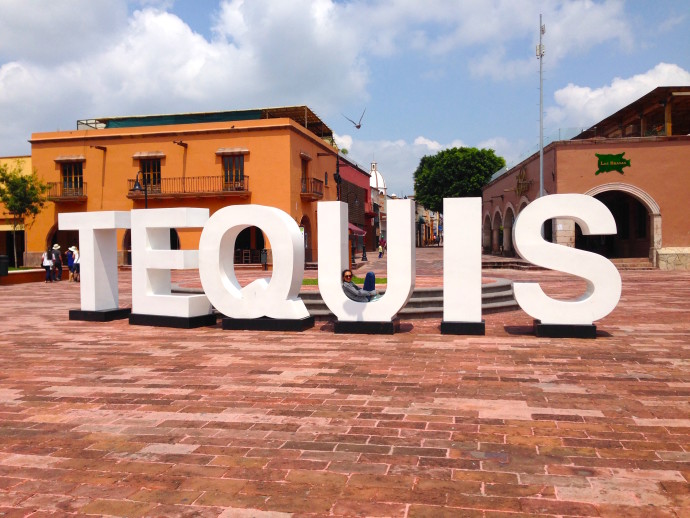 Tequisquiapan is one of 83 "Magic Towns" of Mexico. The title was officially granted in 2012, because its natural beauty, rich cultural and historical significance offer visitors a "magical experience."
My daughter said coming to Tequis was "much better than going to a summer camp." It was also our first trip together. Our experience was indeed magical. It is very likely we'll return in the near future. We'll be sure to bring our dog next time.
Azul Tourquesa was welcomed to this hotel for a review. Opinions are at my discretion and in no means influenced by the offer to experience the property.