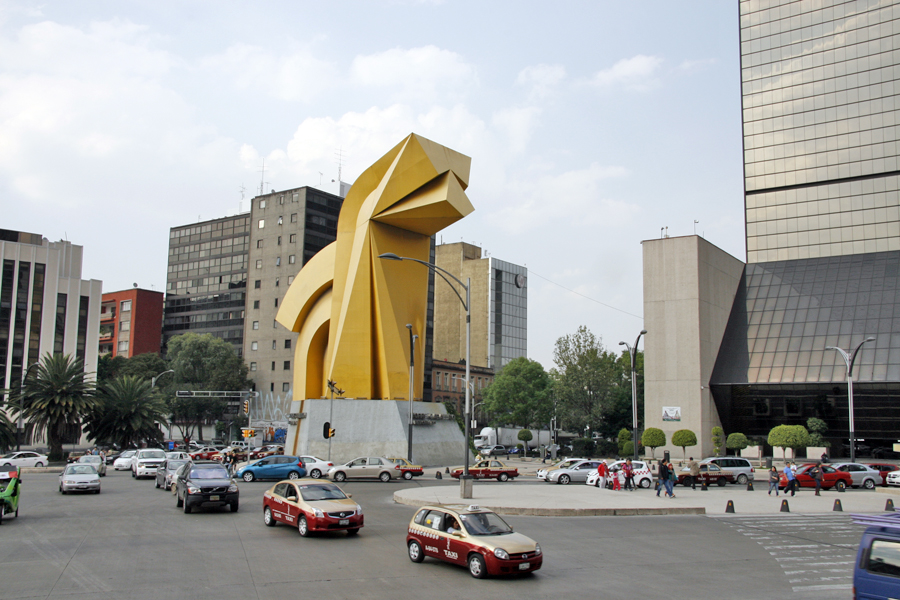 El Caballito (Horse Head) is a sculpture hard to miss. The 91-feet high piece made of iron does not go unnoticed. It is located at the crossroads of Reforma Avenue, one of the main avenues in downtown Mexico City.
But is this enormous horse head art or has a practical use?
The sculpture was built in 1990 and has a double function: it is an art piece, but it also serves as a vent for drainage.
The inhabitants of Mexico City are no strangers to artistic display on the streets of this great metropolis. One of them is Cabeza de Caballo, better known as El Caballito, by Mexican artist Enrique Carbajal.
Pre-Columbian civilizations such as the Olmecs built colosal heads carved from single blocks or boulders of volcanic basalt.
The Olmecs were the first major civilization in Mexico. A couple of the 17 found Cabezas Olmecas (Olmec Heads), weighing about 20 tons each, are in exhibit in the Anthropology National Museum in Mexico City.
El Caballito-style sculptures around the world
Carbajal, better known as Sebastian, is originally from the northern state of Chihuahua, where several of his monumental sculptures are exhibited in public places. His sculptures are also in other cities in Mexico.
Outside Mexico, Sebastian's sculptures can be found in Latin American cities such as Buenos Aires, Argentina; Havana, Cuba; Montevideo, Uruguay; and Rio de Janeiro, Brazil.
Other of his sculptures are located in Albuquerque, New Mexico; Denver, Colorado; New York, and Osaka, Japan among others.
Not only are sculptures big and tall in Mexico City, there are also huge and beautiful buildings. The Torre Latinoamericana (Latin American Tower), with a height of almost 600 feet,  is one of the best lookouts in the city.
Few views are as spectacular as those at the top of the skyscrapers. Even colossal sculptures such as those of the sculptor Sebastian look very small from the heights.