One of the things I miss the most since I live in the United States is being able to walk the streets. Fortunately, Gruene is an American town where literally you can walk up and down. It's very small, just 20 inhabitants. Therefore, the principal attraction is walking the streets of what once was one of the main centers of cotton farmers in central Texas during the nineteenth century.
From the late 1800s to the mid-1900s, Gruene enjoyed good reputation as a cotton center where banking services, as well as disassembly and distribution of cotton, was provided to the farmers in the area. Then the economy collapsed in the aftermath of a pest of cotton weevil, the Great Depression, and lack of road infrastructure after World War II.
Read more about the history of Gruene and its fame as a ghost town.
Today people visiting Gruene—located between the cities of Austin and San Antonio—can walk Gruene Road and Hunter Road, the main streets of the town, and visit the "ruins" of what was the general store, cotton gin and ballroom.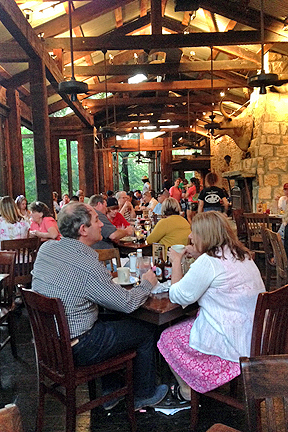 The general store, Gruene General Store, is a popular gift shop where you'll find everything from soft drinks and candy to unusual gifts like a fake bottle of sunscreen for smuggling an alcoholic beverage. Talk about original and handy gifts!
The cotton gin, which after a fire in 1922 was left only with the brick three-story boiler, is now the Gristmill River Restaurant & Bar. The restaurant, which has a great view as it sits on the banks of the Guadalupe River, opened in 1977 and offers a variety of dishes from southern Texas.
Among the restaurant's specialties there is a marinated chicken breast served on a sauce of beans and topped with a tomato sauce. It's absolutely delicious!
The entrance to the restaurant, located under the famous Gruene Water Tower, is adorned with flower-filled barrels where visitants, numbering in the hundreds on weekends, stop to take pictures. I had to do that myself.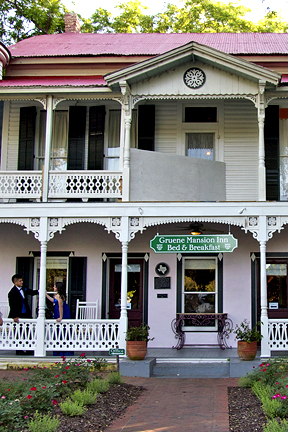 Gruene Hall, the former ballroom, is now a place to hear live music and where country singers such as George Strait, Lyle Lovett and Hal Ketchum were revealed. Gruene Hall offers live music concerts and swing dance lessons all year long.
The Victorian house built by the Gruene family in 1872 is now the Gruene Mansion Inn, a hotel with 30 rooms whose decor harkens back to the good times this town enjoyed in the late nineteenth century.
In addition to other specialty shops and annual events such as art fairs, there isn't much to do in Gruene. But walking down the streets of this American town becomes a unique experience that you'll enjoy.