Would you reject a free membership to a gym? Lady Bird Lake Hike & Bike Trail, a natural gym, is at your fingertips without having to pay a penny. How about walking, running and biking to improve your shape? Or yoga and meditation to give peace to your mind?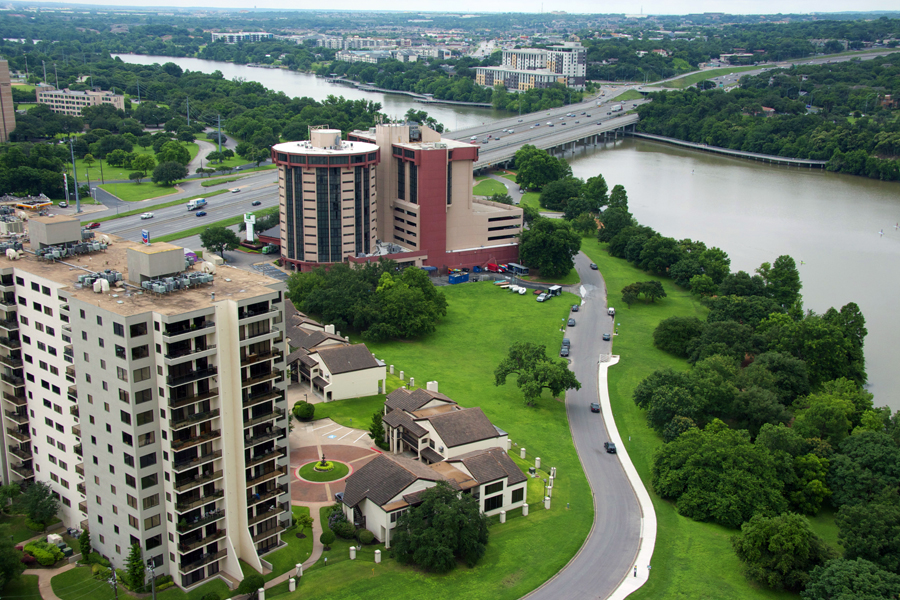 "Healthy mind in a healthy body." You can make yours this phrase at Lady Bird Lake Hike & Bike Trail, located right in the heart of Austin, Texas.
This natural green gem winds along the lake and passes through skyscrapers, neighborhoods, playgrounds and tourist places. It's visited by more than 1.5 million people a year and has become the most popular recreation area in Austin. It's not a "gym" as we know it, but people of all ages come to this urban trail–in groups, alone or with pets–to exercise, take walks or simply to meet friends.
This natural gym–which in May 20015 had fewer visitors due to heavy rains–is the perfect place for activities ranging from boat tours and rides, to jogging, running, swimming, canoeing and sunbathing. And the best: membership is completely free!
The Boardwalk Trail panoramic view
Any point on the trail is good to start a ride. I started at the Lakeshore Park, on the east side, and walked west about 4 miles to the new Boardwalk Trail, opened last year. It was created to connect a part of the trail with another avoiding the traffic on the freeway known as I-35. Previously, pedestrians, joggers and cyclists had to cross the street to continue on the 10-mile trail that makes a circuit around the lake. The new 1.3 mile-long Boardwalk provides a very nice view of the skyscrapers.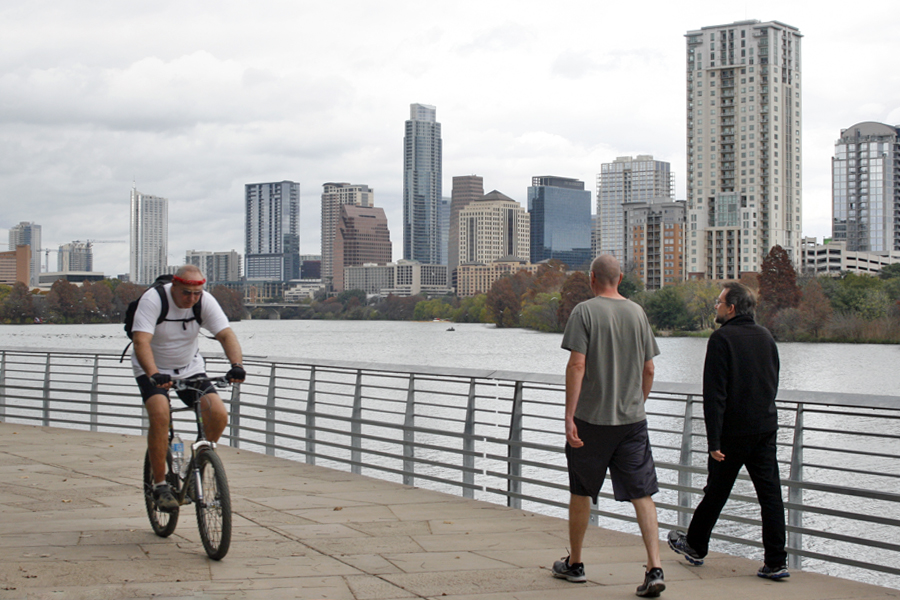 Austin has 912.791 inhabitants, according to the 2014 census. It's the fourth largest city in Texas and the second largest capital city in the United States, after Phoenix in Arizona. Near the downtown area, the University of Texas at Austin is home to more than 51,000 students.
According to a Nielsen report, the technology boom has made the city an attractive labor market for millennials (people born in the 1980s). In addition, continuous construction of office buildings, apartments and restaurants makes clear the government's desire to turn downtown into a residential and recreational area, in addition to its usual commercial use. All of this has given downtown a modern look that appeals to the eye from the Boardwalk.
Exercise is also for pets
People and pets both enjoy the Lady Bird Lake trail (its official name is Ann and Roy Buttler Hike and Bike Trail in honor of the former mayor and his wife). It's common to see women jogging and walking with their dogs… and even with their cats! I saw a woman walking her cat in a special stroller. It had a cover to provide shade and a net to allow the passage of air. The cat was lying peacefully and seemed to enjoy the ride. Some bikers, meanwhile, took their small dogs in front of their bike baskets, while larger dogs ran behind their masters.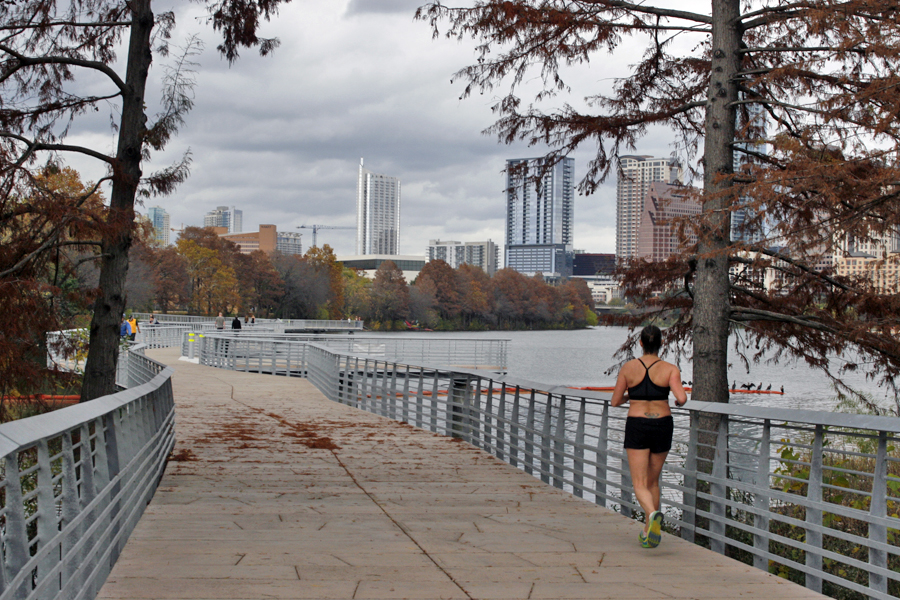 Women's Health Magazine published in its November 2012 issue that the Ann and Roy Butler Trail is one of the 10 best natural places to exercise in the United States. Austin residents seem to think the same.
In April 2015, a survey by Voices of the Austin Community revealed that 90 percent of respondents perceived Austin as an active city where it's essential to be fit. But this is also true in many other cities in the so-called first world.
"Because of the perception that everyone is fit, there are more people with that mentality who are really willing to share their time and knowledge to see if what they do is an option for you, said Sherry Oliver to the local newspaper, Austin American-Statesman. She was one of the 814 people surveyed.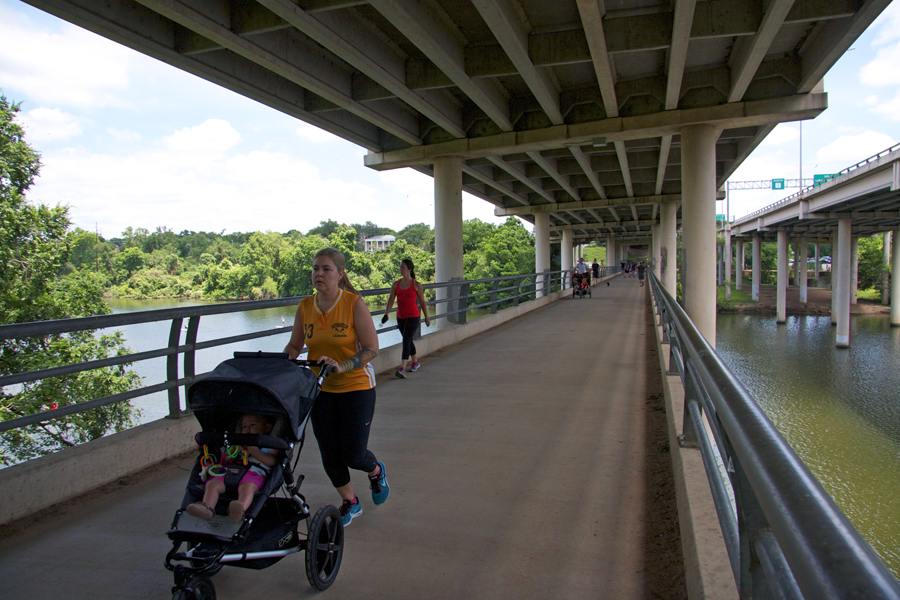 It doesn't seem to be just a trend, but rather a genuine desire of the so-called Austinites to stay healthy. I saw a a group of girls celebrating a bachelorette party on pedal boats on the lake. They could have just rented a limo and wander music clubs on the famous 6th Street, but decided to exercise.
Walking, running, biking and swimming are some exercise options, but so are yoga, meditation, martial arts and water sports. These are practiced on the lake on the lake on kayaks, canoes, sailboats, pedal and tourist boats, mainly in the summer.
Bats Also Exercise
Following the route westward I reached the bridge on Congress Avenue. Getting here means I traveled 6.3 miles from Lakeshore Park until the Boardwalk ends, near the Austin American- Statesman. Congress Avenue is one of the best-known and busiest streets in the city. Rising to the north is the State Capitol—taller than the U.S. Capitol in Washington, D.C.—and to the south there's a neighborhood known as SoCo or Soco (South Congress) with restaurants, hotels, antique shops and boutiques, similar to the SoHo in Manhattan.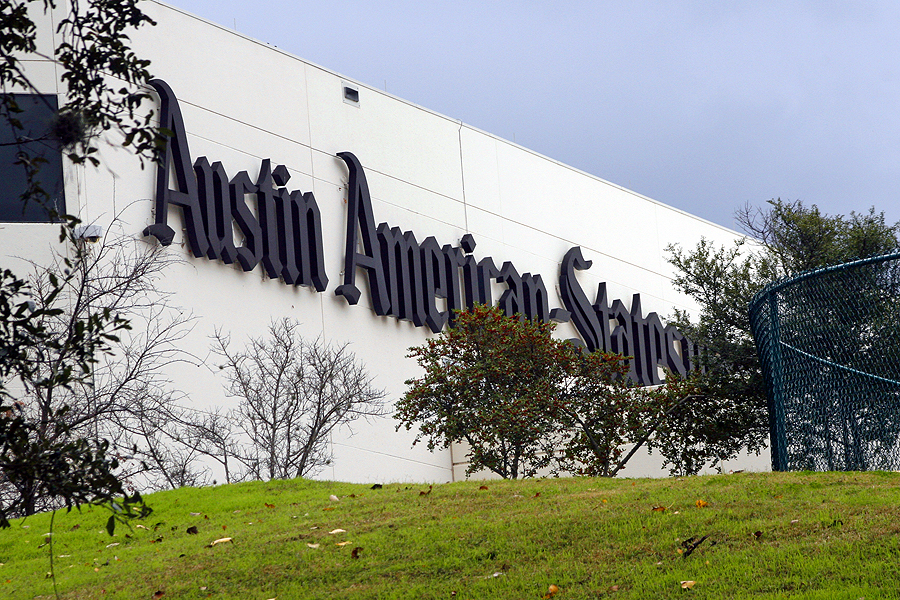 One big attraction is the bats that live under the Ann Richards Bridge on Congress Avenue. At sunset, people gather to form a long line along the bridge, while others congregate in the surrounding green area near the newspaper to see these mammals. It's the largest urban free-tailed bat colony in the U.S., according to Bat Conservation International.
Most bats are female and they leave their lair at night in search of food. They're harmless and beneficial: they can eat from 10,000 to 20,000 pounds of insects each night. They migrate from central Mexico to various parts of the southeastern U.S. This represents a journey of some 730 miles. Talk about exercise!
Natural Pool and Breathtaking Bridge
Following the walk west 2 miles I reached the bridges on South First Street and Lamar Boulevard for a total distance of 7.21 miles. Between these two bridges are the main cultural centers of the city, including the Long Center for the Performing Arts, where you can see representations of Swan Lake, or assist to informal dance classes offered by Ballet Austin, or classical concerts with the Austin Symphony Orchestra.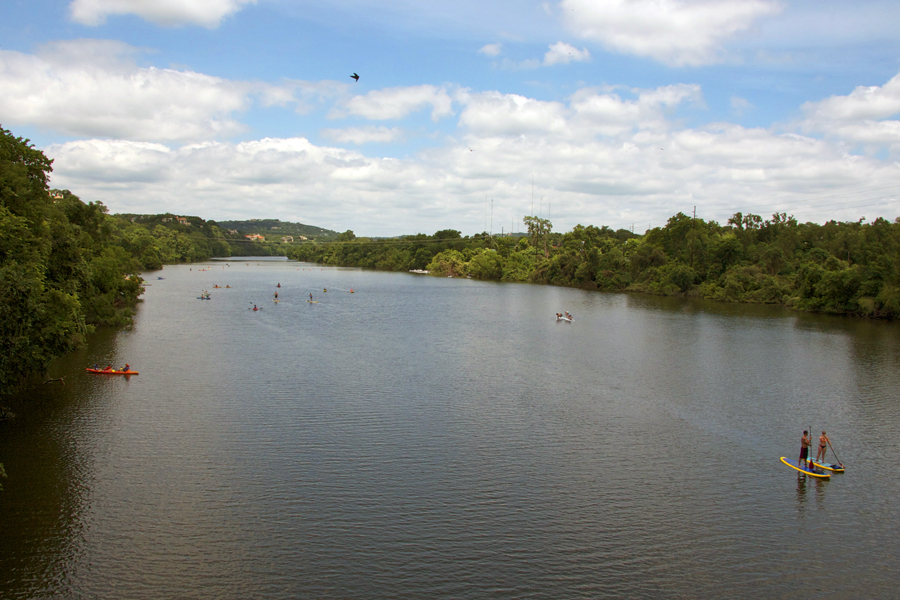 Austin can reach temperatures above 100 degrees Fahrenheit during the summer. There's nothing better than a dip. The best nearby place to visit is Barton Springs Pool. It's a natural spring-fed pool located in Zilker Park that it's very busy in the summer. The water has a temperature of 68 degrees Fahrenheit in the winter and 71.6 degrees in the summer.
Another scenic spot is the Pfluger Pedestrian Bridge on Lamar Boulevard. It has cobbled floors, 32 pedestal lamps. There are dozens of wooden benches with plates dedicated to people who donated money for trail maintenance.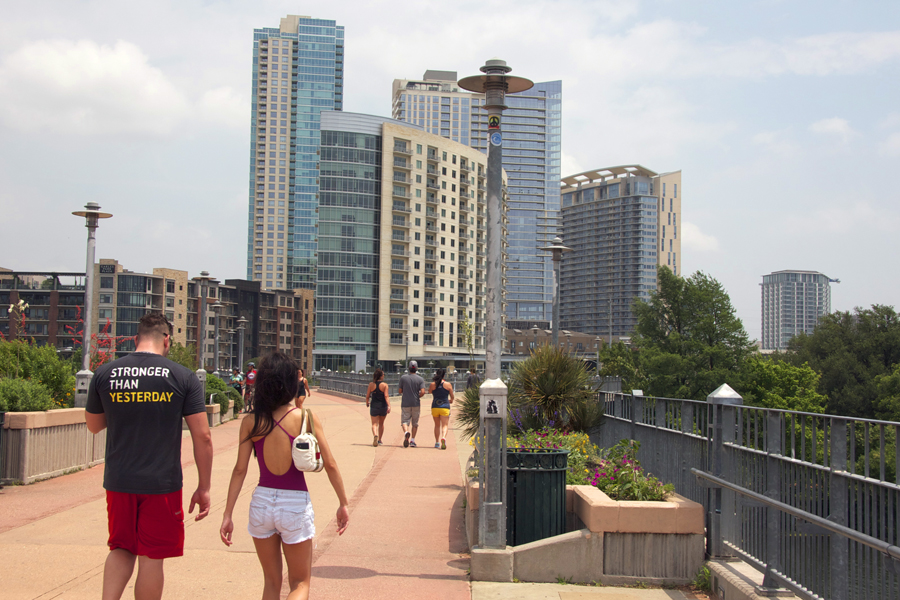 The scenery is breathtaking, from the graffiti on the railway bridge to the east, skyscrapers to the north, hills to the west and the wooded area to the south. It's perfect to enjoy a sunset view and watch the Colorado River–which feeds the Lady Bird Lake– shine in the sun.
Natural Beauty and Lady Bird Johnson
"Where there are flowers, there is hope," once said Lady Bird, wife of former President Lyndon Johnson. She was an admirer and defender of nature. She was concerned to give Lake Austin a better appearance. I found most beautiful the part of the trail that starts at the MoPac Bridge—one of the major roads west of Austin—and then turns on the north side of the lake.
It's a stretch with tall, leafy trees, a wider path and interesting nooks to take panoramic photos and selfies. I walked 10.1 miles from the place of departure. That's almost half marathon! Besides the satisfaction for having exercised, I was grateful for Lady Bird Johnson's idea to beautify cities and highways.
"This place has been my second home and has kept my hope alive," said Vic Huerta del Cid, who has lived in Austin for 25 years and visits the Ann and Roy Butler Trail frequently. His mother passed last year. The trail has been his "escape and sanctuary" for bereavement and not be swayed by depression.
He's an only child and has no other family in town. His maternal grandparents also passed and his closest relatives live in Mexico, where he was born. Vic likes running, walking and cycling, activities he practiced regularly.
He knows all the trail's nooks, especially in this stretch. The name of his family, Huerta del Cid, is carved on one of the hundreds of cobblestones that adorn the floor of a viewpoint.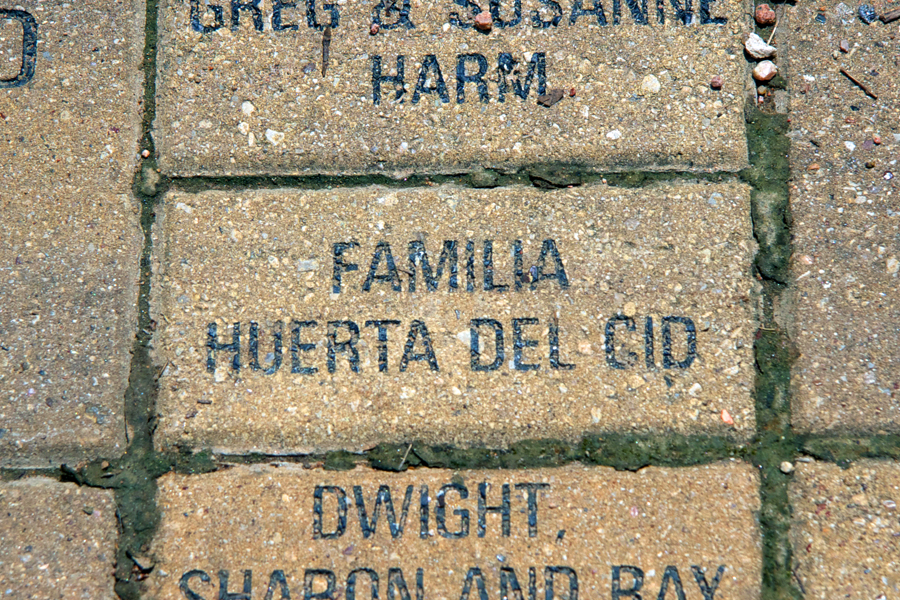 Before his mother passed, Vic donated money to help maintain the trail, which in 2011 was named "Ann and Roy Butler Hike-and-Bike Trail" in honor of the former mayor and his wife. They boosted the beautification project of Lady Bird Johnson in the 1970s. After the death of the First Lady in 2007, the old Austin Town Lake became Lady Bird Lake.
Troubadours & Rain at Lady Bird Lake
Austin is known as "the live music capital of the world." Finding places to hear music in the heart of the city is easy… even on the Lady Bird Lake Trail. Woode Wood is a troubadour from Virginia who has made the trail his personal music stage. He settles on a rocky fence near a gazebo, with his guitar and harmonica, to greet people with his music. His songs are about love, women, life and beauty.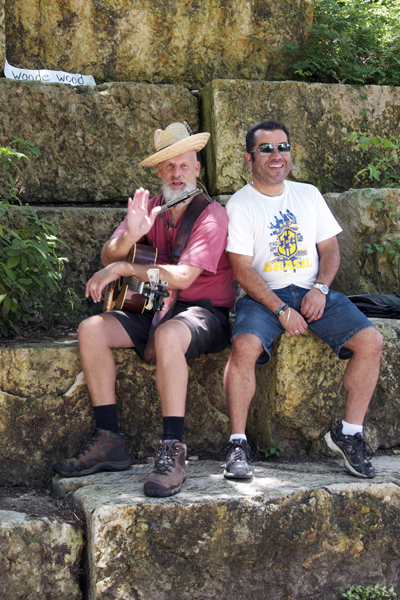 "Monica, let's go to the beach, let's go swimming, eat some cotton candy and hot dogs," he said singing "Now," a song of his latest album. He describes his music as "Americana, roots rock and modern folk." His voice was soft and clear; it reminded me of the Cuban singer Silvio Rodriguez. At other times, especially when performing songs with a country rhythm, his voice resembled that of Willie Nelson.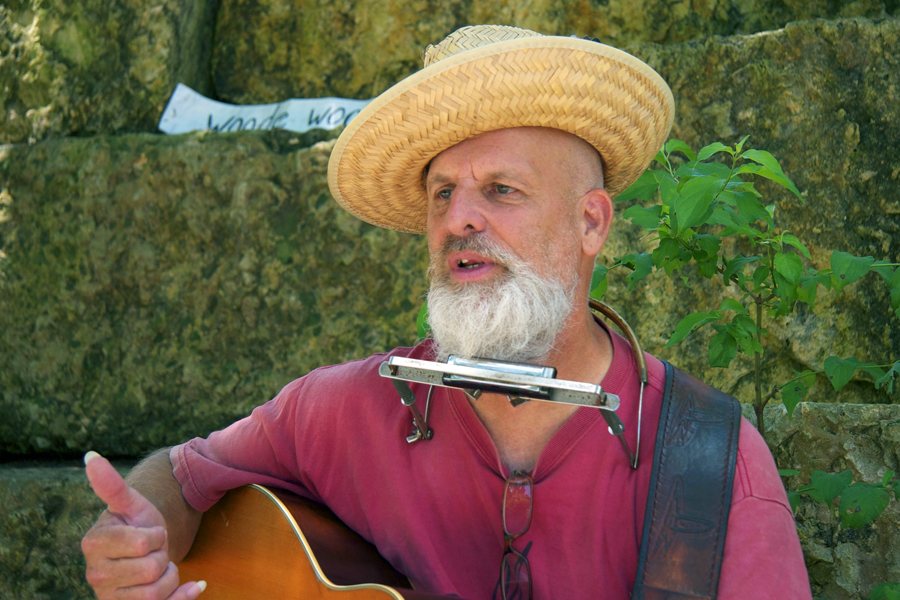 Woode has played his music to walkers and runners since 2004. Nothing stops him except bad weather. Recently, Austin had the worst floods in its history due to torrential rains that lashed much of the state of Texas.
This troubadour was unable to attend to his natural scenario. Lady Bird Lake Trail, Austin's natural gym, is subject to the weather. Heavy rains in May temporarily decreased its visitors. But the sun and the people would soon re-appear.