I like pozole since I was a child. My mom used to make it not only for special occasions, but any time I would request it. Now I prepare it myself. Here are a couple of my favorite recipes and some interesting facts about corn. Let's eat pozole! It's delicious!
Pozole is served in Mexican restaurants worldwide. Corn kernels are the main ingredient of pozole. But did you know that corn is native to the Americas? It was the staple food of indigenous pre-Hispanic times and is still important today.
The ancient Mayans said the man had been made by the gods of corn kernels, and according to a Mayan saying that comes from the colonial era, corn is the "grace of God." The word pozole comes from the Nahuatl pozolli, which means "cooked corn."
Pozole is a soup or stew from Mexico to which chicken or pork is added and is usually prepared red or white, depending on the region in which it originates. For example, white pozole is from the southern state of Guerrero and red pozole is from the western states of Sinaloa and Nayarit, as well as from Jalisco and Guanajuato, in central Mexico.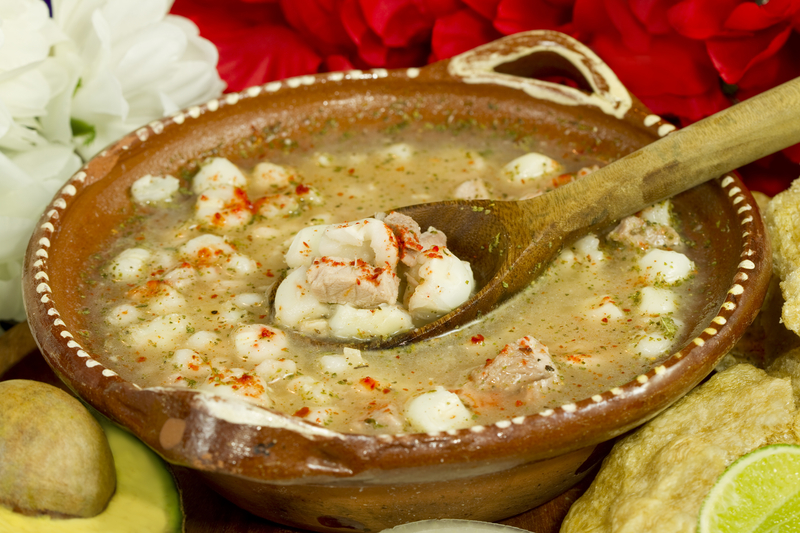 WHITE POZOLE
1 whole chicken, about 3 lb (1.5 kg), cut up
1/2 onion
3 cloves garlic
4 teaspoons salt
1 spring cilantro
cold water
2 lb (1 kg) boneless lean pork
1 lb (500 g) boneless pork butt (pork leg)
2 lb (1 kg) dried hominy, cooked and drained
3 oz (90 g) dried oregano
1 cup (8 oz/250 g) chopped onions
3 oz (90 g) ground chile piquin
5 limes, halved
Place the chicken in a large pot or Dutch oven and add the onion, garlic, 1 teaspoon of the salt and the cilantro. Cover with 10 cups (80 fl oz/2.5 l) water, bring to a boil and simmer, covered, over medium heat for 20 minutes or until the chicken is tender. Transfer the chicken to a plate, remove the skin and bones and shred the meat. Reserve the stock. Ther should be about 8 cups (64 fl oz/2 l).
Place the pork, pork butt and remaining salt in a large pot and cover with 14 cups (112 fl oz/3.5 l) water. When the water comes to a boil, skim the surface and cook over medium heat for 1 hour. Add the hominy and cook another 30 minutes. Remove and shred the meat and return it to the pot.
Add the chicken stock and shredded chicken to the pot, correct the seasonings, cover and cook over medium heat for 20 minutes or until the hominy is tender.
Serve in small earthenware bowls and pass separate dishes containing the oregano, chopped onion, chile piquin and lime halves.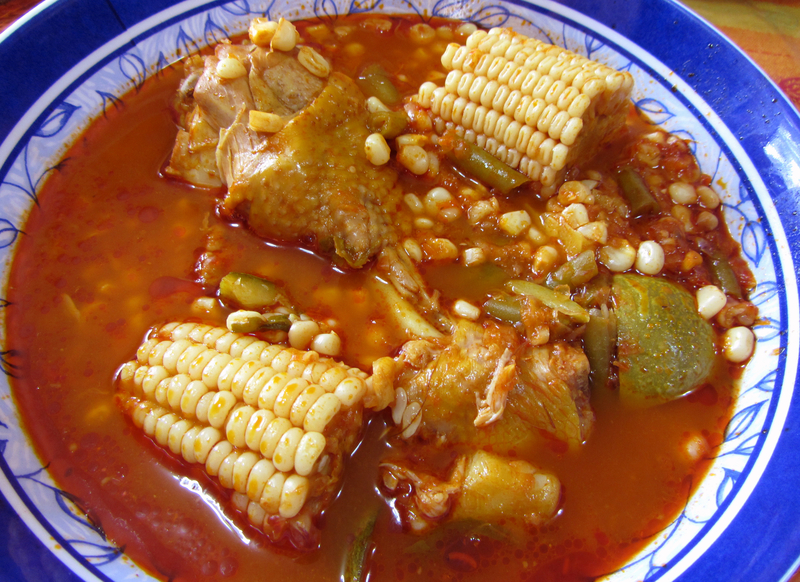 RED POZOLE
10-12 chiles guajillos, seeds and membranes removed
1/2 cup (4 fl oz/125 ml) water
1/4 onion
4 cloves garlic
7 tablespoons oil
Soak the chiles in hot water to cover for 20 minutes, then drain. In a blender, purée the chiles with the water, onion and garlic.
Heat the oil in a skillet over high heat, add the chile purée and sauté for 5 minutes. Lower the heat and cook for 10 minutes.
Add this sauce to the pozole when you mix in the shredded chicken and pork.
Authentic recipes from Mexico & Texas" from the book Mexican Border Flavors, The Beautiful Cookbook by Susanna Palazuelos and Patsy Swendson.