Few views are as spectacular as those at the top of a mountain. The landscape's majesty and immensity leave you breathless. Observing a city from the top of a skyscraper is a similar experience. You stand in awe at the urban landscape and think about the greatness of people who were able to build all you see under your feet.
One way to know a city is precisely from a lookout point. On my most recent visit to Mexico City, I climbed to the top of the Torre Latinoamericana, one of Mexico's best lookouts. It wasn't the first time I admired my hometown from the top of this tower, the tallest skyscraper in Mexico between 1956-1984. But it was the first time I thought that man, just a tiny dot in the vast universe, is a colossal architect.
Enjoy five of my favorite lookouts in Mexico City.
1. Torre Latinoamericana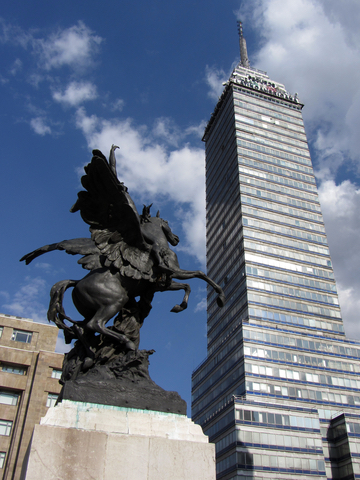 Location: Downtown
Opening: April 30, 1956
Built by: Mexican architect Augusto H. Álvarez
Height: 597 ft (tower: 453 ft and antenna: 144 ft)
Stories: 44
Interesting data: The Torre Latinoamericana (Latin-American Tower) is one of the city's most important landmarks. It's also recognized internationally as an engineering and architectural landmark since it was the first world's major skyscraper built on land prone to earthquakes. It was Mexico City's tallest building until the completion in 1984 of the Torre Ejecutiva Pemex, which is 72 ft higher. Torre Latino (as it is called for short) has been featured in movies such as Baz Luhrmann's Romeo + Juliet, Alfonso Cuarón's Solo con tu pareja, and Alejandro González Iñárritu's Amores Perros.
2. World Trade Center
Location: Avenida de los Insurgentes
Opening: 1972 (as Hotel de México); 1995 (as WTC México)
Built by: Mexican architect Guillermo Rossell de la Lama and Spaniard architect Ramón Miquelajauregui
Height: 679 ft (roof: 627 ft and antenna: 52 ft)
Stories: 50
Interesting data: The World Trade Center (also called by its former name: Hotel de México) has a revolving restaurant on the 45th floor. The restaurant turns one meter every minute. After 105 minutes you'll have seen the whole city! It surpassed Torre Latino's height in 1972 (if one subtracts the height of the television transmitter atop the tower).
3. Torre Mayor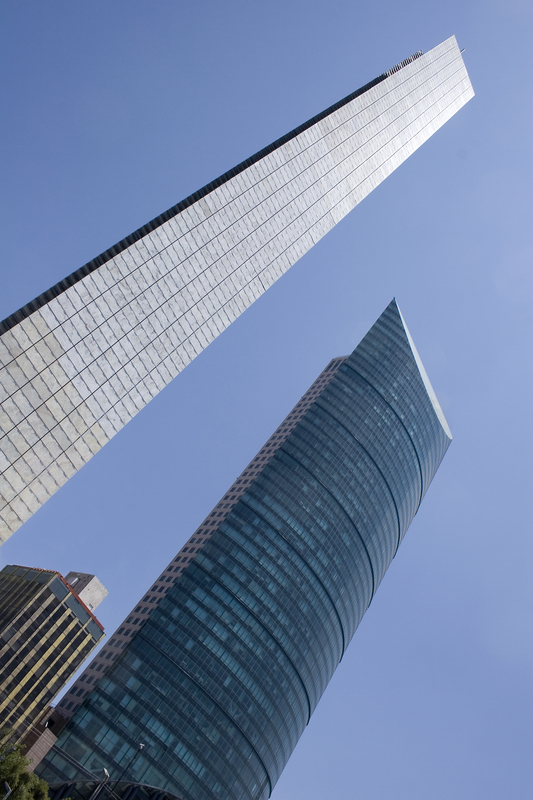 Location: Paseo de la Reforma
Opening: June 25, 2003
Built by: Adamson Associates Architects (Canada), Zeidler Partnership Architects (Canada) and IDEA Asociados (Mexico)
Height: 738 ft
Stories: 55 (and 4 basement parking floors)
Interesting data: The Torre Mayor (Major Tower) is a green and intelligent building. It received the Leadership in Energy and Environmental Design (LEED) certification developed by the U.S. Green Building Council.
It features the highest heliport in the continent and its steel and concrete structure hosts 98 huge seismic dampers. It is believed that no worker died during its construction.
4. Monumento a la Revolución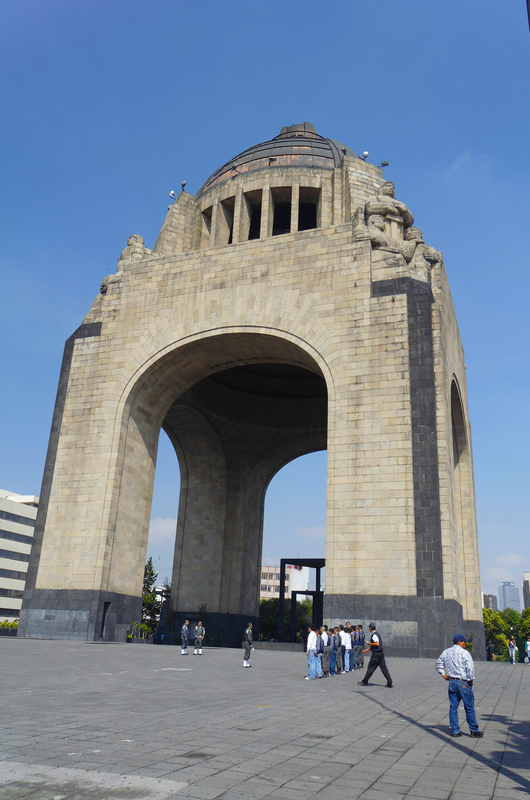 Location: Plaza de la República, near downtown
Opening: 1938. Reopening: Noviembre 20, 2010
Built by: French architect Émelie Bérnard, Mexican architect Carlos Obregón Santacilia, 1910-1938
Height: 220 ft
Interesting data: The Monumento a la Revolución (Monument to the Revolution) is a memorial and mausoleum dedicated to the Mexican Revolution of 1910. Leading figures of the revolution lie in crypts placed at the base of its four pillars.
Originally, it was to be the seat of the federal legislative palace, a luxurious neoclassical building that would have been larger than the Capitol in Washington, D.C. However, construction was suspended for two decades due to the uprising of the revolutionary movement and the diversion of funds to fight the revolution. Bérnard wanted to rescue his project at the end of the revolution, but died without being able to complete it. Architect Obregón Santacilia,
one of the pioneers of modern Mexican architecture, rescued the unfinished work and gave the landmark an eclectic style of Art Deco and Mexican socialism realism. Mexican sculptor Oliverio Martínez also collaborated in the project. The sculptures that crown the monument's four pillars are a mixture of pre-Hispanic art and cubism.
About 100 vertical water jets (that move and light up to the beat of music at night in the monument's plaza) were installed as part of the celebrations to commemorate the bicentennial of the revolution in 2010. They are on everyday and people play with these spurts of water especially on hot days.
5. Ángel de la Independencia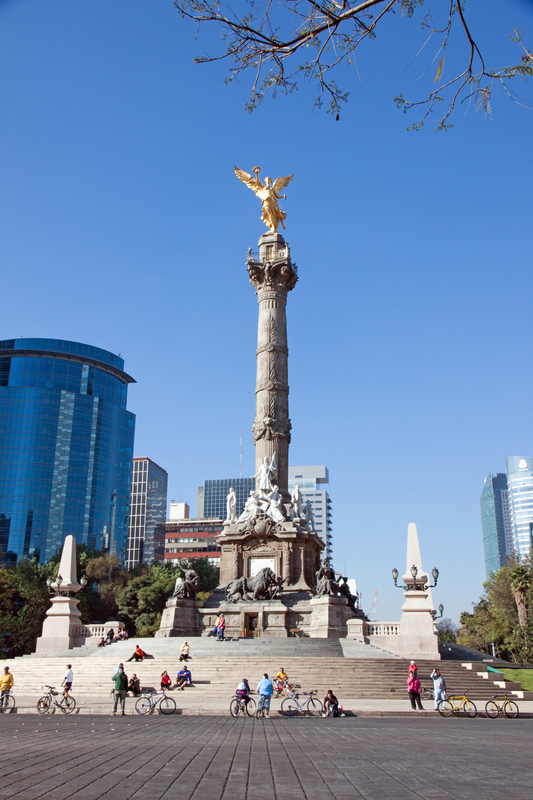 Location: Paseo de la Reforma
Opening: September 16, 1910
Built by: Mexican architects Antonio Rivas Mercado, Gonzalo Garita, Manuel Gorozpe and Enrique Alciati (the latter, a sculptor)
Height: 148 ft
Interesting data: El Ángel or Ángel de la Independencia (as this victory column is known; although its official name in English is Monument to Independence), was built in 1910 to commemorate the centennial of Mexico's independence. One of the most recognizable landmarks in the city, it has become a focal point for both celebrations and protests. It resembles the July Column in Paris and the Berlin Column Victory in Berlin. It's often chosen as "a Kodak moment" kind of place for celebration photos such as Quinceañeras, weddings, graduations and soccer game victories. It's also used as a meeting point or background curtain for cultural, artistic and car shows, as well as for civil and military events.
Now back to you. What is your favorite lookout in Mexico or around the world?